Fifty-nine boats competed in the recreational boat category from all corners of the UK as well as further afield, attracted by the largest prize table in UK boat angling history, worth an amazing £200,000.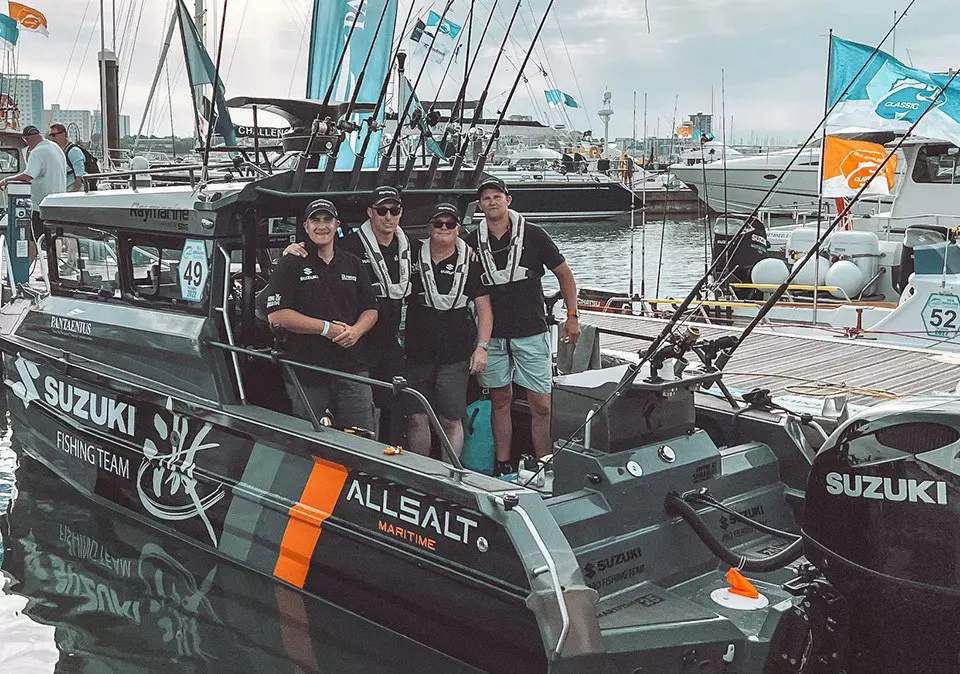 Will Parkinson's Smartfish UK team targeted this competition due to its high profile. Newly established, the Sea Angling Classics is a bang up to date catch, record and release tournament that many sport angling insiders believe will change the face of UK competitive sea fishing. The event represents a bold move and big investment by organisers Spirit of Angling to achieve the sponsorship, media coverage, promotions and associated activities that have given the US tournaments such a huge following.
As Will says, the win was quite a coup and the Raymarine systems were key to this success, given the lack of local knowledge aboard the boat: "Despite the fact that we keep the boats in the Solent as it's a convenient place to travel from, we're actually a Dover-based team. Local knowledge of fishing marks is a key factor in tournament success, so we are over the moon to have pulled this one off against the odds."
The state-of-the-art aluminium-hulled Smartfish 25 boat the team used for the competition has been designed from the ground up as a competition fishing platform.
The boat sports no less than five Raymarine Axiom+ chartplotters which some might consider rather a lot for a 25-footer. "It's all about situational awareness," says Will. "We've got one of the Axiom+ 12s mounted high on the cabin bulkhead facing aft so that when fishing, there is no nipping into the cabin required to double check position, fishfinder, drift, proximity of other vessels or a myriad of other things. There is an Axiom+ 12 (12" screen) directly in front of the helm and one in front of the navigator, and an Axiom+ 7 at roof level ahead of each of them too. When changing location or looking for fish, we mainly showed the fishfinder data on the big screens, sometimes using a chartplotter to relay the Raymarine Cyclone Pro doppler radar data as we search for flocks of birds. Seabirds on the water are a sure indicator of bait fish, which we needed to catch if we wanted to use live bait in the competition, but they can also be a sign of larger predators which we might wish to target, chasing the bait fish up from below."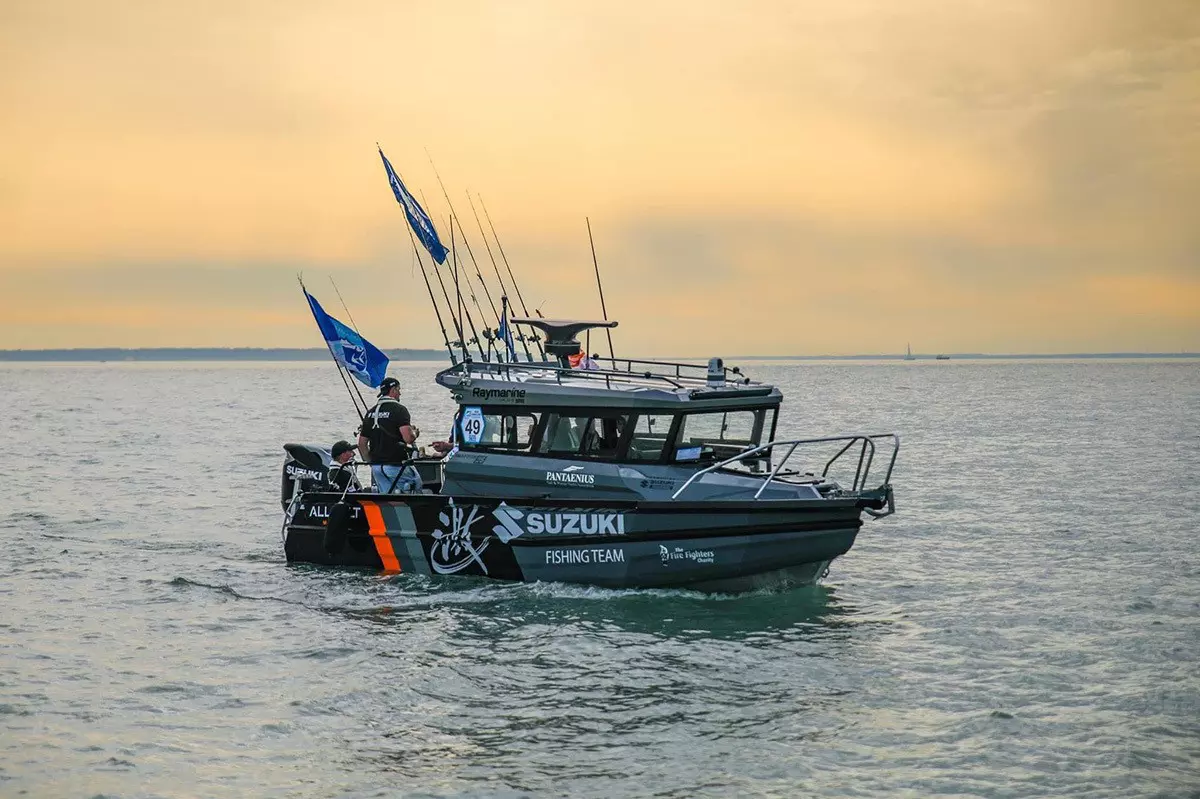 MULTIPLE CHARTPLOTTERS FOR MULTIPLE TASKS
Thanks to network switches none of the displays are dedicated to any particular task, in competition use, the Smartfish team can switch displays to specialise in certain functions for long periods. "If you have to switch between, say a full screen chart and a full screen fishfinder, it's quicker to do so by moving your head and eyes back and forth than going into a menu on a single screen. Even more so if the boat is moving fast in open water."
All of the chartplotters receive information from the onboard system, including the Raymarine Real Vision 220 transducer. 3D Real Vision gives 3D mapping of the seabed, which for competition use is invaluable for targeting species. In a species-specific tournament such as this one it's important to not waste any time reeling in fish of the wrong species that do not count towards the final score. Because 3D Real Vision colour codes sonar returns from fish or schools of fish, it makes it quicker and easier to set the depths of baits. The ability to shift the sonar view around with the swipe of a finger through the chartplotter also makes it much easier to understand how the fish are interacting with any seabed features.
Speed is certainly of the essence in tournament sea fishing, as Will continues, "Time transiting between fishing spots in the boat is time you don't have the rods over the side, catching fish, so we do all we can to minimise transit times." The boat itself is a great aid in this, as it's capable of 40 knots+ thanks to its 300hp outboard, a sturdy, 6mm aluminium hull and high-end suspension seats ensuring that high speeds can be safely carried in rough conditions. Both the driver and navigators seat arms house Raymarine RMK10 remote controls meaning the chartplotters can be controlled from a fully suspended position so there's no need to reduce boat speed to navigate a touchscreen.
TIGHT MARGINS
The objective of the two-day tournament was to catch the longest of five species of fish (tope, smooth-hound, bream, bass and ray). The contest counted three fish from each species to make the longest length overall. Fish were measured, recorded through a high-tech validating system and returned very much alive and well. Despite two full days of fishing Will says the margins were incredibly tight: "The Smartfish UK team won the recreational category and its £50,000 top prize with a total of 1270cm, winning by just 15cm. Considering how close these competitions can run and the prizes at stake, it's clear how every second counts. 15cm could be made up by a single big fish which we could have missed if the bait was returned to the water just two seconds later after a catch or we'd had to slow down or stop on the way between fishing spots to fiddle with a touchscreen chartplotter."
Knowledge is power and the team has learnt that having multiple Raymarine products available simultaneously for the helm and navigator means that nobody is ever waiting to use something. This even carries across to the twin Raymarine RAY53 VHF radios, which enabled the navigator to monitor the tournament info on CH72, while Will communicated simultaneously on CH6 on the other side of the cabin, speaking to other competitors to find out who was catching where.
ACCURATE POSTIONING
The rules for this competition stipulated that no boat may get closer than 50m to any other boat or risk disqualification and prime spots such as wrecks or hollows might not have space within the rules for more than one of two boats at any one time.
A case in point from this competition was Mixon Hole off Selsey. This deep area is a hotspot for big tope, and at one stage in this competition the Smartfish UK team needed a big tope or two. Unfortunately for Will there was a glitch: "There was already a competitor boat anchored over Mixon Hole, the tide was perfect and they looked to be catching, but the entire feature is only 200ft (60m) wide. Fortunately, he wasn't bang in the middle and there was space to squeeze our boat in on the edge of the Hole but only by calling on very accurate navigation." This is where the Raymarine AR200 sensor really paid off. It's a Global Navigation Satellite Systems (GNSS) Receiver and an Attitude and Heading Reference System (AHRS) sensor so even more accurate than the chartplotter's built-in GPS. "This allowed us to squeeze into the edge of Mixon Hole, knowing we were exactly where we wanted to be with reference to the other boat and the deep water. We bagged our tope and the fish were key to our overall success."
Will believes that tournament boat fishing in the UK is on the edge of an exciting turning point. "The Sea Angling Classics event has been televised on BT Sports and Sky Sports, and it was amazing to see how our win looked from the other side of the lens. As prize pots increase and competitors travel from all over the world to take part in an increasing number of higher profile tournaments, margins will get closer and teams will become increasingly interested in the electronic technologies that can provide an edge over their closest competitors. It's great to play a part in this exciting journey and to be experiencing a boat that's proving to be such a successful test bed for these game-changing technologies."